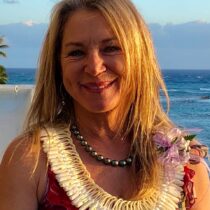 Phone: (808) 341-7571 E-mail: monicaciletti@gmail.com
EDUCATION:  
Primary School at Punahou to 1977, and Hawaii School for Girls to 1978. University of Hawaii & Honors Graduate of UC Berkeley in Rhetoric to 1983.
EXPERIENCE:  
Hawaii Freelance Tour Guide & Foreign Group Escort 1977 to 1980. Planned hotel and travel itinerary, led groups, translated, coordinated tours and activities, customer service and followup.
Administrative Assistant at Château de Menars, France 1983 to 1984. Managed 8 employees, oversaw renovations, handled translations and foreign regulations, inventory of historic property, bookkeeping and communications.
Top producing Realtor & Manager at Prudential Locations, Inc. 1985 to 1992. Real Estate Broker responsible for negotiations, contract, escrow, and finance. Managed other agents, directed teams with sales plan and progress reports.
Owner & Principal Broker of A Slice of Paradise, Inc. 1992 to 2005. Responsible for set up of firm, licensing, professional affiliations, technology, management, negotiations, contract, escrow, financing and bookkeeping.
Realtor with Coldwell Banker Pacific Properties 2005 to 2010. Real Estate Broker responsible for computer and office duties, negotiations, contract, escrow, finance and customer service from greeting to closing.
Vacation Rental and Property Management 2010 to 2019. Responsible for advertising, correspondences, overseeing property maintenance, handling finances, decor and customer service.
QUALIFICATIONS:
Extensive travel and personal familiarity with diverse cultures. Fluent in German & French. Intermediate in Spanish.
Experience in verbal and written Communications, Negotiations, Leadership, Contracts, and Computer skills.
Established network of local professionals in Travel, Realty, Escrow, Banking & Law.
Personal familiarity with the Hawaiian Islands, the history, sights and unique cultural diversity of these islands.
Energetic, enthusiastic, hard working, responsible and of honest values.
PERSONAL: Born in Argentina. Raised in Kailua, Hawaii from age 5.
Member of Lanikai Canoe Club, Volunteer for Habitat for Humanity.
Interests include sailing, water sports, art, cooking, and home improvement.
REFRENCES: Gladly furnished upon reques
---
Contact Details
---
Send a Message